About Your Toronto Window Cleaning Company, Sunnyside Window & Eaves Cleaning Ltd.
Sunnyside Window & Eaves Cleaning Ltd. has been providing high quality window cleaning and other exterior cleaning services to homeowners throughout Toronto and the surrounding areas since 1998. Our Toronto window cleaning company works to provide the most thorough cleaning services possible to each of our clients, and we always guarantee your complete satisfaction with the work that we provide. We know how important your home is to you and your family, so at every job we perform, we strive to keep your home in the best condition possible.
Whether you need window cleaning, deck cleaning, or even eavestrough repairs, you can rely on our experienced professionals for high quality workmanship and excellent service. Give us a call today, and we'll be looking forward to assisting you.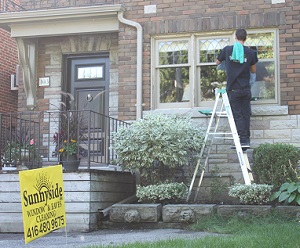 Why Choose Sunnyside Window & Eaves Cleaning?
When hiring a window cleaning company (or even an individual) to clean your windows and eaves it is very important for you as the Toronto property owner to see that they are fully insured.
Did you know that above ground window cleaning is rated as one of the most high risk occupations for injury?
Sunnyside is proud to have one of the best safety records in the business. Rest assured that we take all steps to insure that we protect our Toronto window cleaners as well as the people that hire us by having all necessary insurance coverage in place so that if an accident did occur we would protect you as the customer from liability. Many Toronto individuals and companies try to skip this expense of insurance coverage exposing you to unnecessary risk that may end up being financially devastating to you.
When hiring any company to do work on your Toronto property ask for proof of WSIB coverage (it's the law to have this coverage) also ask for any additional insurance coverage they may have.
When hiring Sunnyside you are fully protected!
Since 1998 we at Sunnyside have been providing excellent service throughout the Greater Toronto Area.
We attribute our continued growth to following the keys of our success: We always take pride in doing a good job for our customers. We realize that the only way to continue to grow is to make sure the job is done right and flawless. Word of mouth is the best way to promote our business. We don't look at your property as just another stop on our list. We take each job as an opportunity to prove to our customer that they made the best choice by hiring us.
See how Sunnyside can make your property look like new again!